MountainMegalodons: TM
"A Hobby Gone Wild"
Group #5: Pieces and Parts of a magnificent beast:
Please use the teeth below as a guide on quality, type, sizes, and prices. I will gladly offer you a similar tooth at a reduced price because I haven't taken the time to photograph and load onto the web.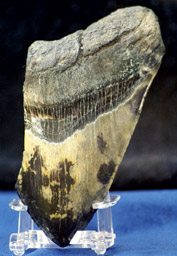 Photo
Size
Status
Price

90-86
Show "Front"


Slant Height:
3 9/16
(90mm)

Weight:
3.0oz.
(86g.)
Contrary to the photograph, this is a "black", "cat-eye" (chatoyant), serrated partial tooth. See the photo.
FOR SALE
$24

96-76
Show "Front"

Show "Back"
Slant Height:
3 7/8"
(96mm)

Weight:
2.7oz.
(76g.)
Black grey chatoyant blade...excellent serrations. Bourlette and root are erroded.
SOLD
$29

96-79
Show "Front"


Slant Height:
3 13/16"
(96mm)

Weight:
2.7oz.
(79g.)
This tooth is grey, with some peel on the show front. It is serrated and the root is in good shape except for the obvious missing left "ear tip".
FOR SALE
$19

102-107
Show "Front"


Slant Height:
4.0"
(102mm)

Weight:
3.8oz.
(107g.)
A "striking" jet-black partial. The missing portion is on the right "ear-tip". The tooth is serrated and has glossy enamel.
FOR SALE
$28

103-113
Show "Front"


Slant Height:
4.0"
(103mm)

Weight:
4.0oz.
(113g.)
This is, essentially a megalodon tooth blade... but a nice one. It is serrated, grey-green enamel. Buy it as a gift for your "Boss"... he/she won't know the difference. See the photo.
SOLD
Sold

132-246
Show "Front"


Slant Height:
5 1/4"
(132mm)

Weight:
8.7oz.
(246g.)
Jet Black, chatoyant (cat-eye), glossy enamel... solid root with very few expansion cracks. I believe I heard the diver scream out in pain when he realized the right ear-tip was gone. This is still a very impressive shark's tooth.
FOR SALE
$42
CLICK ON LINK BELOW TO GO TO:

MountainMegalodons HomePage


CLICK ON LINKS BELOW FOR OTHER GROUPS OF TEETH.

Monster Teeth
Group 1
Group 2
Group 3
Group 4
Group 5
Great White Teeth
St. Mary's River Teeth

---

OTHER LINKS



Ordering Information&nbsp&nbsp |&nbsp&nbsp Tooth Terms
Pricing Meg Teeth
About Megalodon
A Short History of Time

Contact Us



Copyright MountainMegalodons &copy 2000-2002. All rights reserved.